Don't reinvent the wheel! All Texas Public Schools require manuals which can be a tedious and time consuming process. The Foundation Package with Data Quality Manual will help your team get on the same page regarding data quality while developing a user friendly manual that couples as an extended job description for all those who oversee reportable data.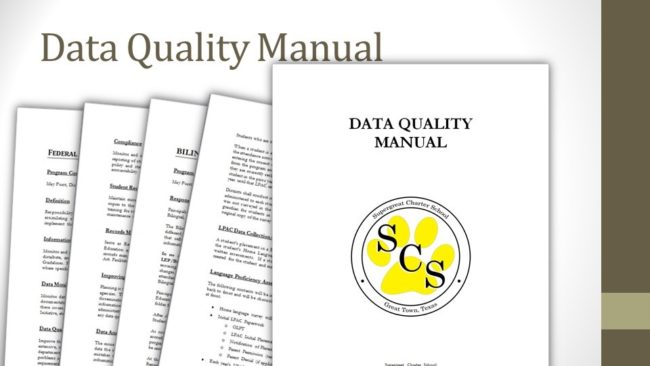 Data Foundations Package including Data Quality Manual
Includes All the Following
6-hour on-site training, coaching, and support of Policy and Procedure Development to:

Superintendent
Principals
Directors
PEIMS Coordinator
Other Data Managers

6-hour on-site follow-up training including:

Data Quality Manual Review
Policy and Procedure Evaluation
Legal Compliance Review
Initial Audit Readiness Review

Access to Data Quality Manual template updates for future revisions.
Data Quality Manual template and forms, all editable to meet individual needs.*
* Fulfills Attendance Manual Requirements and Policy and Procedures in Special Program coding and
reporting as outlined in the Student Attendance Accounting Handbook.
Participation in any online Data Quality trainings.
Free development of data quality forms.
Email updates and notifications of Data Quality related points of interest and due dates.
Reduced rate on additional staff development opportunities.
1 Year Technical Assistance via Telephone, Email, or Webinar.